Dubai Macarons - WAZ Arts
ARTS with a TWIST WAZ arts LLC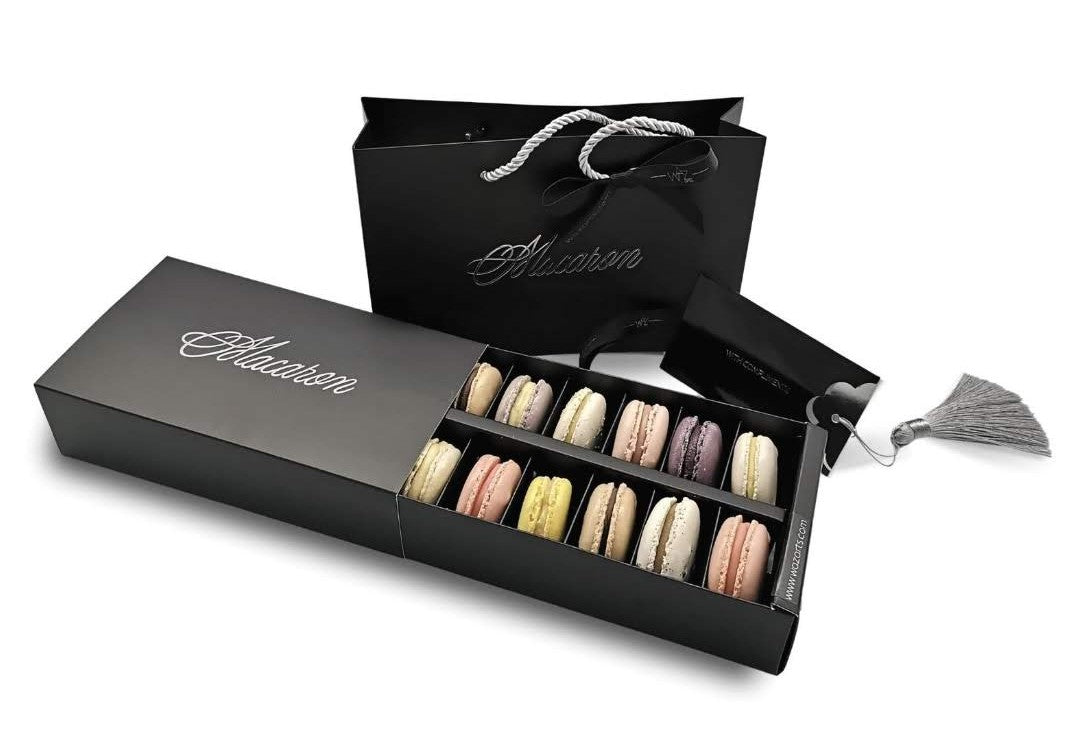 WAZ macarons are tasty and ideal for baby showers, bridal showers, weddings, and birthday celebrations. They are difficult to refuse because of their bite-sized size, vibrant colors, and alluring textures. These treats feature a crispy crust and a soft inside composed of ganache, buttercream, or jam. They are created using meringue, sugar, and almond flour. There are several varieties of these yummy treats.
Why Buy WAZ Macarons for Your Next Party?
Here are a few explanations for why WAZ macarons are so well-liked:
1.  WAZ Macarons are suitable for every season.
Certain seasons of the year, such as summer or winter, are ideally suited for eating certain pastries.
For instance, Tikvenik, a delicious pumpkin pie from Bulgaria, is often served on Christmas Eve and is linked with the winter season.
Similar to pumpkin spice, apple cinnamon is a fall flavor. On the other hand, macarons are a year-round treat.
2.  They are fashionable.
The making and selling of macarons resemble fine art. Nowadays, you may find macarons in many different forms throughout France and the rest of the globe. These exquisite, delicate biscuits are the ideal dessert for classy events and get-togethers.
People may get a flavor of Paris by eating the stars of pastries. They have an incredible level of taste precision and are vibrant and delectable. The most Instagrammed European dish is Dubai macarons. Wedding macaron towers, gift baskets, flowers, and eateries attract photographers.
3.  WAZ macarons are a type of light dessert.
Dubai macarons have between 70 and 100 calories per serving. However, the size and recipe significantly impact the calorie count. For instance, a macaron's calorie content will be significantly increased by a filling rich in cream and butter.
In terms of nutrition, these cookies include trace levels of dietary fiber, carbs, calcium, iron, and vitamin A. Additionally, they contain relatively low amounts of cholesterol and salt.
4.  WAZ Macarons are available in various forms and tastes.
Since WAZ macarons come in so many different flavors and colors, we may customize them to fit a broad range of tastes. coconut, toffee, hazelnut, pistachio, chocolate, lemon, rose, and raspberry are some of the most popular tastes.
Creme brulee, salted caramel, coffee and raisins are some of the unusual tastes creative pastry chefs have created via additional experimentation. The options for making distinctive macarons with fillings are almost limitless.
Making every occasion extra special with WAZ arts
WAZ arts is based in Dubai-UAE, and makes every event even more spectacular.
Our beautifully designed boxes are the ideal solution for any celebration or event if you're searching for distinctive and classy presents or freebies. Regardless of the occasion, whether it is a birthday, wedding, baby shower, or anniversary, you may choose a box that matches the design, theme, and colors of your celebration.
Flowers are one of the critical components of every special occasion and may improve the atmosphere of an elaborate wedding and a less formal event, such as a baby shower or birthday celebration. Centerpieces, floral bouquets, arrangements, and gift boxes are available at WAZ arts to match any theme or aesthetic. Additionally, you may purchase one of our exclusive flower boxes or grazing platters as a present for your loved ones.
Our boxes come in various colors and materials, such as rich leather, quality velvet, or classic laminate. We may fill them with a selection of a wide variety of floral arrangements, our famous Dubai macarons, our nibbling cheese platters, or a combination of the three!
The various box sizes, from slight to extra-large, have been skillfully created to fit various amounts of flowers and macarons in Dubai. On how you set up the box for your loved ones, we leave entirely is up to you. WAZ Arts may customize the boxes in any size, shape, or color to fit your style or identity. We need to finalize your preferred choices only three months before your event.
Our senior florists, who have years of expertise, arrange flowers expertly. A renowned macaron chef provides our macarons, which come in 11 diverse and distinctive flavors. A distinctive stainless-steel cheese cutter with wood handles is included with the cheese platters, which are lovely solid wood boards. A selection of the best cheeses is available on the plate, along with all the required delectable toppings.