Healthy Eats with Style in Dubai: Macaron, Cheese, & Grazing Platters
ARTS with a TWIST WAZ arts LLC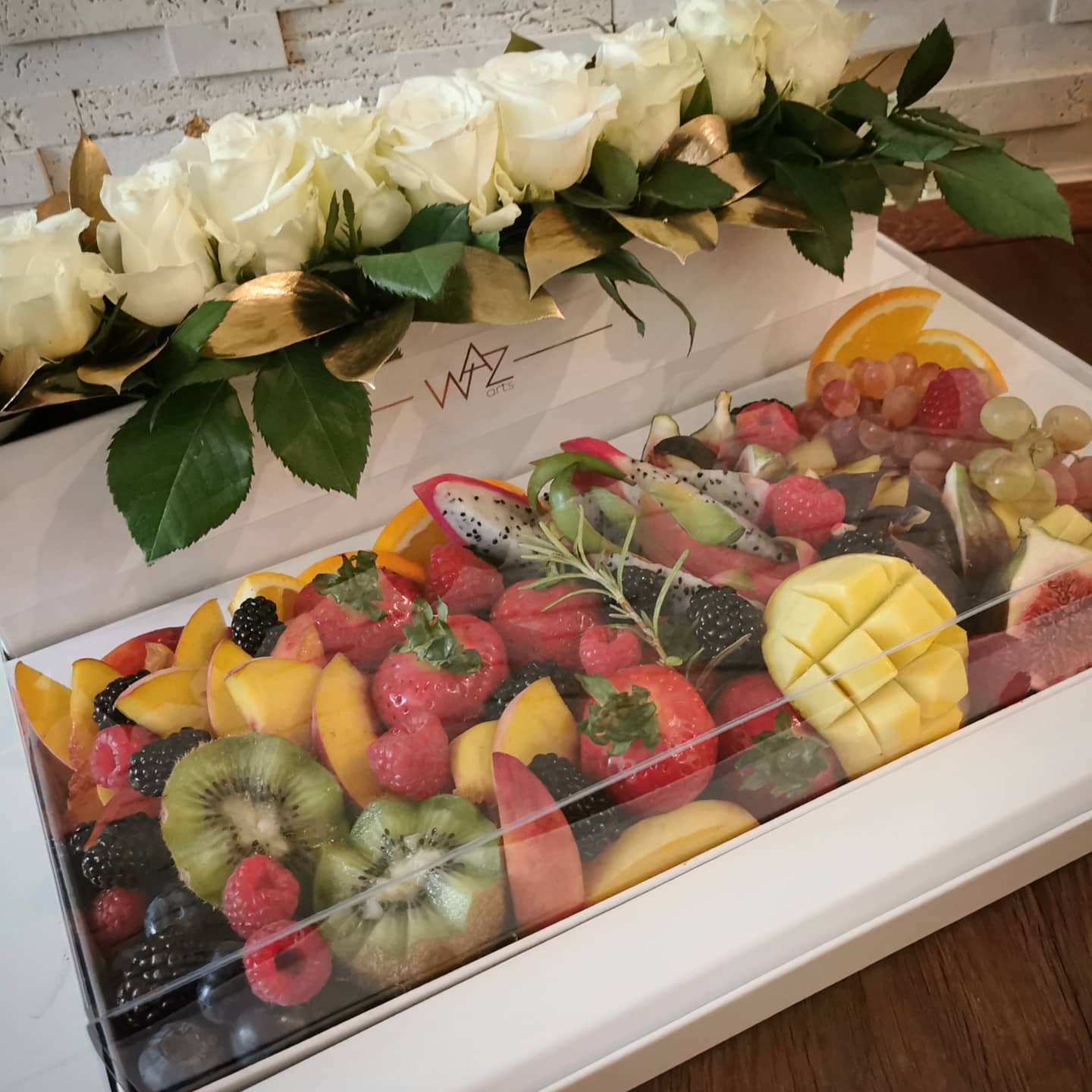 So you're looking for some healthy eats but don't know where to start? No problem! We've got you covered with these gorgeous and stylish grazing platters that'll have you feeling satisfied while still looking good! From macaron, cheese, and fruit platters to luxury gifts - we've got everything you need to stay on track and feel your best. So pick up a plate today and enjoy some healthy eats with style!
Macaron, Cheese, & Grazing Platters
This fall, try out a healthy and stylish meal that will satisfy your cravings while keeping you on track with your diet. Macaron, cheese, and grazing plates are the perfect way to do just that. Not to mention, they're easy to put together - just gather some common ingredients and you're good to go! What's more, these dishes are loaded with flavor and satisfying textures, so you'll be able to enjoy all the flavors without feeling weighed down or guilty later on. Cheers to a tasty and healthy fall season!
Macaron
If you're looking for a delicious and nutritious dish that will keep your appetite in check, you should try macaron. This French pastry is made of almond flour, sugar, egg whites and cheese - all of which are essential to its taste and texture. All recipes are easy to follow and make great lunches or snacks - perfect for when you have a craving but don't want something heavy or unhealthy. The combination of the sweetness from the macarons with the savory nature of the ingredients makes for an interesting and balanced meal.
Cheese
Cheese is one of the most versatile ingredients you can use in your meals. Not just as a standalone dish, cheese can also be paired with other savory items to give them an extra layer of flavor. BeingCrunchy and Fresh, some great ideas for including it into your diet are as follows:
Add grated cheese on top of roasted vegetables or potatoes for that perfect crunchiness and sweetness combo!
Grilled cheese sandwich made with thick slices of aged cheddar cheese will definitely hit the spot!
Nutritional powerhouse cottage Cheese goes beautifully well with fruits like grapes or strawberries – they make a delicious sweet-tart duo that'll leave you wanting more!
Grazing Platters
Do you love cheese? If so, then you will love grazing Platters! These bite-sized appetizers are perfect for a special occasion or as a healthy snack option. Made with plenty of delicious cheese and macarons, these dishes are sure to please the palate. Not to mention, they're easy to make and look amazing when served up on your table. So why not give them a try next time you have an upcoming party? You won't regret it!
Luxury Gifts
It's that time of year again - Whole30 Month! If you're looking for a way to eat clean and feel good, look no further than our list of luxury gifts that will help you achieve both goals. From macaron bowls to gourmet cheese platters, we've got everything you need to make the health-conscious person in your life happy! Not to mention, they won't break the bank. When it comes to healthy eating, there's no need for deprivation! So go ahead and indulge in all the deliciousness your heart desires while staying on track!
Fresh Flower
When it comes to healthy eating, there's no need to sacrifice style! In fact, incorporating fresh flower into your meals can be really stylish and delicious. You can find many types of fresh flowers at markets, including delicate orchids and stunning roses. Pick up a few and enjoy them with your meals. For example, try serving a flower-covered plate of macaroni and cheese or a beautiful salad made with fresh greens and fruits. Spring is a great time to celebrate healthy eating with style by enjoying fresh flower plates and salads. So, put on your gardening gloves and get to work!
MY FLOWERS BOX
Fall is a time of change and new beginnings. And what better way to kick off the season than by embracing healthy eats? In this post, we'll be sharing three delicious and healthy eats that will keep you looking and feeling your best this fall. First up, we've got grazing platters - perfect for pairing with wines or beers on a lazy Sunday afternoon. Second, we've got macaroni and cheese served in a bread bowl; it's a fun (and easy) way to show off your culinary skills. And last but not least, our final dish is flower power: fresh vegetable salads drizzled with seasoned vinaigrette made from antioxidant-rich fruits and vegetables! So whether you're looking for a quick and easy meal, or you want to show off your culinary skills, we've got you covered. Bon appétit!
Buy Healthy Eats with Style from WAZ Arts Dubai
There's no need to sacrifice taste or nutritional value when it comes to buying healthy eats - that's where WAZ Arts comes in! Offering stunning grazing platters perfect for a romantic evening in or a fun day out with friends, the store offers a variety of healthy and nutritious dishes that are sure to please. Whether you're looking for a hearty and filling meal or something to keep you warm during the colder months, WAZ Arts has got you covered. In addition to affordable prices, the store also offers stunning platters that will make your food choices stand out. So, whether you're looking for a healthy and delicious dinner idea or something to take to a picnic, WAZ Arts has got you covered!
Frequently Asked Questions
How can I make macaroni and cheese using healthy ingredients?
Macaroni and cheese is a classic dish that can be made using healthy ingredients. Here are three recipes that you can try:
Quinoa salad with roasted vegetables: Quinoa is a great edibility choice as it is gluten-free, high in fiber, and chock-full of antioxidants. Combine quinoa with roasted vegetables like Brussels sprouts, carrots, and sweet potatoes for a delicious and healthy dish.
Whole grain toast with peanut butter & jelly: If you're looking for a quick and easy meal, toast some soft bread slices and spread them with creamy peanut butter then top them with fresh jelly. (You can also add in some diced tomatoes or avocado for extra flavor.)
Goat cheese & fig tartlets: Soft, flaky pastry dough is filled with goat cheese andFIGs (a type of fruit) then baked until golden brown and crispy.
What are some of the best healthy eats in Dubai?
One of the best healthy eats in Dubai is a plate filled with macaroni cheese and grilled meats. This is because it's a combination of two classic comfort foods that are both healthy and easy to make. Another great option is to graze on plates of fruits, vegetables, and grains instead of eating single servings all the time. This way, you'll be getting the benefits of a balanced diet without having to worry about counting calories or putting unhealthy items in your stomach. In addition to these two dishes, you can also enjoy bowls filled with avocado soup, chicken and vegetable curry bowls, or burrito bowl topped with guacamole. These bowls are all great options because they're packed with different flavors and nutrients that will help you stay healthy and energized all day long!
What are some of the health benefits of grazing on foods?
Grazing is a great way to fuel your body and satisfy hunger without overdoing it. When you graze, you eat small, frequent meals that will keep your hunger at bay and help your body to digest food properly. In addition, grazing has been shown to improve digestion, lower blood pressure, burn calories, and promote weight loss. Here are a few healthy eats that you can try out in Dubai that are perfect for grazing: macaroni cheese platters, cheesy toast sandwiches, buffalo chicken wraps. Plus, don't forget to indulge in some dessert!
Are there any other types of food that would make good choices for a healthy eats meal in Dubai?
Grazing is a big trend when it comes to healthy eating, and that means loading up on fresh fruits, vegetables, and whole grains. Some good choices for grazers in Dubai include: macaroni and cheese with grilled chicken or salmon; platters of roasted vegetables; fruit salad topped with yoghurt or ricotta cheese; a wrap filled with baked tofu, steamed asparagus, mung bean sprouts and crispy onions.
What is a grazing platter, and how can it be used as a healthy eating option?
A grazing platter is a type of healthy eating option that recommends consuming grains, fruits and vegetables in small quantities throughout the day instead of all at once. This helps to keep your metabolism going and maintain your energy levels. Additionally, when it comes to food, grazing is an important part of the human diet because it helps us get the most out of our food by digesting it more efficiently.
Are there any other healthy eating trends worth exploring in Dubai?
There are a few healthy eating trends that you may want to explore in Dubai. One of the most popular ones is grazing - where you eat small portions frequently instead of one large meal. This helps to curb cravings and keep your stomach satisfied. Another trend that's gaining popularity in Dubai is macaroni cheese, which is a great way to satisfy your cravings without sacrificing taste or nutrition. If you're looking for something a little bit different, try out savory grain bowls like quinoa tabbouleh or black bean and corn salad. Both of these dishes are full of flavor and nutrients, making them a great option if you're looking to healthily satisfy your hunger.
What are some of the best healthy eating options in Dubai?
If you're looking for some delicious and healthy food options to enjoy while in Dubai, try out these three dishes.
Macaron: Macarons are a type of sweet pastry that are made from almond flour, sugar, egg whites, and butter. These treats are definitely delicious and can be ordered as part of a set meal or as an appetizer plate.
Cheese: There's plenty of types of cheese to choose from in Dubai, like feta, blue cheese, gorgonzola, and brie. All of these cheeses are perfect for snacks, appetizers, or as part of a set meal.
Grazing Platters: A grazing platter is a great way to enjoy healthy food while still having plenty of options for variety and calorie intake. This type of dish comes with different types of fresh fruits, vegetables, and meats that you can nibble on while sipping on some wine or juice.
How can I make a cheese platter that's both delicious and nutritious?
When it comes to creating a delicious and nutritious cheese platter, you'll want include some high-quality cheeses. Pair them with fruit and vegetables for a balanced meal that's sure to please your taste buds. Choose wines that compliment the flavors of your food, such as a fruity rosé wine with blue cheese. You can also choose a cheese like Gorgonzola, Roquefort, or Blue Cheese to stand out on your platter.
Which type of macaron should I order?
If you're looking for a savory macaron, order the goat cheese macaron. This type of macaron is filled with goat cheese and is thenipped in a crust made of almond flour, sugar, egg whites, and butter. Alternatively, try the grazing platter which comes with different toppings like salad and charcuterie. This platter is perfect for anyone who wants to enjoy an all around meal that will leave their taste buds satisfied. Alternatively, if you're in the mood for something sweet and crunchy, go for the hazelnut macaron. This macaron is filled with hazelnut cream and is thenipped in a crust made of almond flour, sugar, egg whites, and butter.
What is the best way to enjoy grazing food - without going overboard?
If you're trying to enjoy grazing food without going overboard, try ordering from the platter menu. This way, you can mix and match different dishes that are both filling and light. Additionally, be creative with your plate and experiment with different ingredients like cheese or macaroni mixed with sweet ones like pears or dates.
Conclusion
Healthy Eats with Style is the perfect way to enjoy your dining experience in Dubai. From the luxurious macaron, cheese, and grazing platters to the fresh flower, we have everything you need to enjoy a delicious and stylish meal. Shop healthy eats with style from WAZ Arts Dubai today and enjoy a guilt-free dining experience!