Macarons Gift Box the Best Birthday Present
ARTS with a TWIST WAZ arts LLC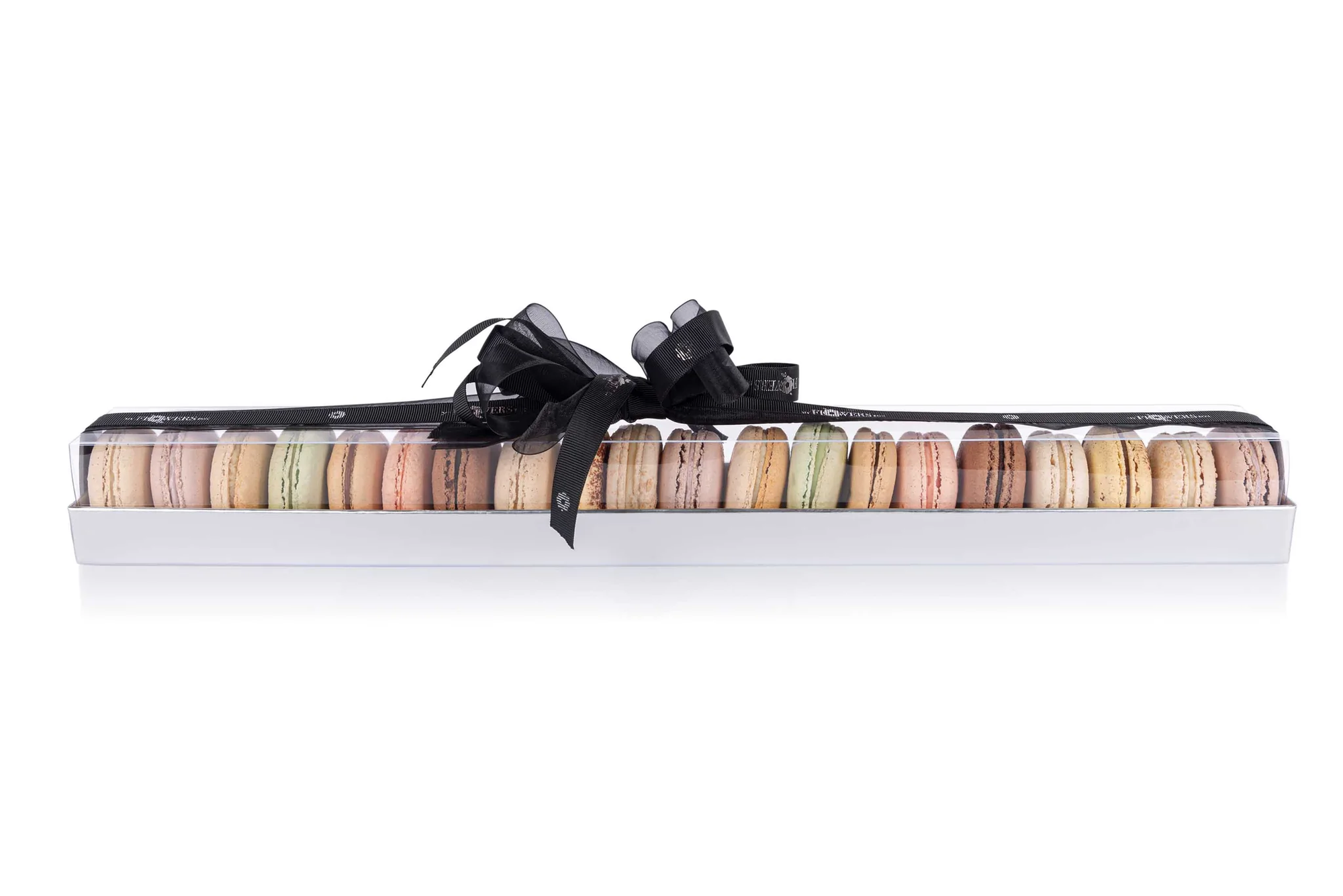 The macaron tray is filled with 19 delicious macarons made by well-known chefs and covered with a protective cover made of clear material to keep it clean and make the inside of the tray look better!
It's great for filling up your "Premium Box" if you have some left over.
The size of the box is 16 cm by 36 cm by 6 cm.
A Gift Box Containing Macarons
In Dubai, we offer our clients a premium box of macarons. The macaron box has 19 macarons of your choice and two delectable flavors of chocolate that arrive in a different box. Each macaron is made by a well-known chef, and it has a clear protective coating to keep it clean and pretty so that the inside looks better.
This macaron box is great for filling with macarons as it comes with 19 macarons that have been produced by renowned chefs and are wrapped with a protective cover made of transparent material to keep the box clean and beautiful on the inside!
Macarons are a French delicacy that are prepared by combining sugar, crushed almonds, and eggs, and then baking them in specialized molds to get the desired form.
·         An elegant macaron box
The Macaron Box offers macarons of the highest possible quality at a price that won't break the bank.
·         Delectable flavors
Pick your favorites from our wide selection of delectable flavors and savor them as soon as they come out of the oven.
·         Premium box
The Macaron Box is ideal for everyone who loves the flavor of genuine French macarons and wants to share that experience with their loved ones and friends.
·         Cleaning is a breeze.
The macarons are protected by a clear lid that can be easily taken off to make them look clean.
The ideal gathering or celebration at which to present the Medium Macaron Gift Box
If you are in Dubai or its surrounds (around the UAE area) and are interested in finding out what the finest party present is for a birthday in Dubai, then we have the ideal option for you!
Our Medium Macarons Gift Box is just what you need. It is neatly packed in an elegant present box and makes a delicious and one-of-a-kind gift for any birthday celebration or special event you can think of!
Medium-Sized Box of Macarons
Famous chefs utilize exceptional ingredients and appealing packaging for convenient storage. Your item will be secure if it is handcrafted and well wrapped. If you want a gorgeous treat, choose a medium box of our macarons.
This assortment of macarons is both traditional and unexpected. Famous chefs' meals are delectable. These delightful treats are ready to give as gifts and come with a cover that is see-through to keep them clean.
Refresh French macarons with the medium macarons box, which has 19 delights produced by a chef. Each macaron has a see-through shell that reveals the inside of the macaron, and the medium macaron box is ready to be given as a present. Still?
You may be able to get gourmet macarons in Dubai. The 19 macarons in the box come in flavors like chocolate, cream, pistachio, and raspberry. The way they are put together reminds me of the elegance of Paris.
Our Medium Macarons Box features 19 exquisite macarons made by prominent chefs, and our delicacies will leave your mouth watering. Dubai's French cuisine is a joy to the senses.
Is purchasing this party gift box a good use of my money?
The Macaron Box is the ideal solution if you are looking for a present that is both one-of-a-kind and delectable to give on a special occasion.
Each delicious macaron in our premium box originates from famous chefs, making it a true French delicacy. The box is attractive enough to be used as a regular party item, but it is simple enough to pull down and clean in order to satisfy your cleaning needs.
Additionally, there are two distinct kinds of chocolate present, making the package even more unique.
Whether you're searching for the perfect birthday gift or simply the easiest way to amuse guests at any event, the Macaron Box has everything you want, as well as a few extras on top of that!