Medium Cheese Grazing Platter Box
ARTS with a TWIST WAZ arts LLC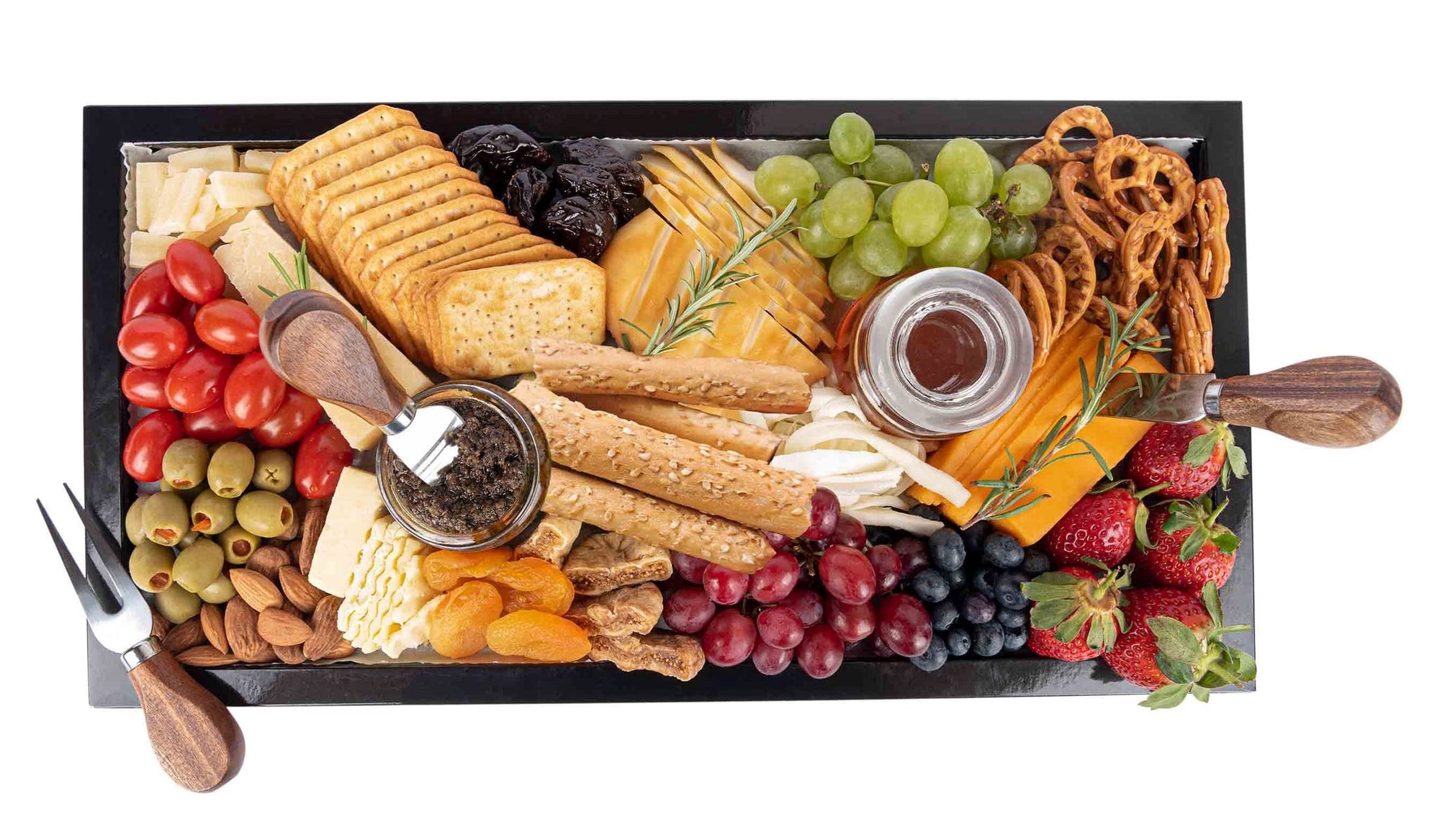 Looking for a delicious and sustainable way to entertain your guests? Check out our cheese grazing platter!
This box features a variety of exquisite cheeses, along with some crackers and grapes, so guests can savor every bite.
Not only is this a great option for an elegant dinner party, but it's also a great way to show your concern for the environment. Not to mention, it tastes fantastic!
Grazing Platters Online.
It's time to let the sweet indulgence of cheese and honey be your companion during a leisurely day out.
Order this medium box for yourself or as a gift for someone special! The exquisite range of cheeses will surely delight your palate, and the crackers, honey, and olive spread will make you feel like royalty.
This is a perfect treat to share with friends at home or whenever you go out with them. So order it now!
Order cheese gorging platters.
Whenever you want to feel like a king, order cheese gorging platters! Everyone has their own favorite cheese, and they're sure to love the assortment of cheeses on this buffet. From creamy mozzarella to sharp cheddar, this platter has something for everyone.
Cover it with some fresh fruits and crackers, and you have yourself a party fit for royalty! With its classic appeal and eye-catching design, this is sure to be a hit at any event. Get yours today!
Best for Casual Parties & Events
Casual parties can't be incomplete without cheese and snacks, right? Grab the cheese platter online from WAZ Arts grocery store and treat yourself to some indulgence. But, why stick to conventional options when you can now get a medium-sized box that will surely have your guests craving more? The collection includes dried fruits and crackers too.
Use it as an appetizer or share it with loved ones; the choice is yours. Pick it up today on WAZ Arts and make a memorable gastronomical experience for everyone around you!
Dubai's Best Cheese Grazing Platters!
Looking for Dubai's best cheese platters?
Look no further, as we have the perfect selection of gifts and catering services that will make your event a success.
Our boxes include different types of cheese and crackers, ensuring that everyone at your party can enjoy their favorite flavors. We also offer a wide range of fruit options to top it all off perfectly.
Order your grazing platter today and get ready to be treated like a king or queen!
Enjoying cheese with your friends or family is an age-old ritual in the UAE. Our Cheese Grazing Platter comes in a classy gift box, letting you pack in all the necessary utensils and toppings to make it more enjoyable.
Served with crackers, honey, and olive oil, this platter is perfect for kicking off any party with a hearty snack. With its portable design, you can take it along to lounge around at home or get together with friends!
How about cheese and dessert for dinner?
Don't settle for anything less than perfection when it comes to our Cheese Grazing Platter! This beautiful tray is filled with all of your favorite cheeses and treats, so you can enjoy a delicious treat anytime you want. Plus, the transparent cover keeps everything clean and organized while adding a touch of elegance to your table. Order one today!
Final Thoughts
Looking for a fun and unique way to serve your dinner guests? Check out our cheese grazing platter! This box comes loaded with all the food your guests will love, including crackers, grapes, olives, and our delicious cheese. It's the perfect way to show them a good time and have some fun while getting their food delivered to their doorstep. So what are you waiting for?
Order your cheese grazing platter today!